What Is It?
Go Science
is a series of DVD's featuring Ben Roy. These new DVD's are available through
Library and Educational Services
, which is a company that offers wholesale pricing to the general public on some fabulous learning materials. This series has seven DVDs, each focusing on a different science topic and full of fun science demonstrations.
Ben Roy is a professor of science at the University of Tennessee and used to direct a TV show that taught kids all about science. Ben is high energy and his experiments allow kids to see science truths acted out that would be difficult to reproduce in a home setting. Getting to see these experiments, instead of just reading about them, grabs kid's attention and helps them remember what they are learning.
Ben uses every experiment to point kids back to God. He does this in a simple way that kids can understand, while not undermining the science behind each segment.
This series is geared towards kids the ages of 4-12. My children are 7 and 4.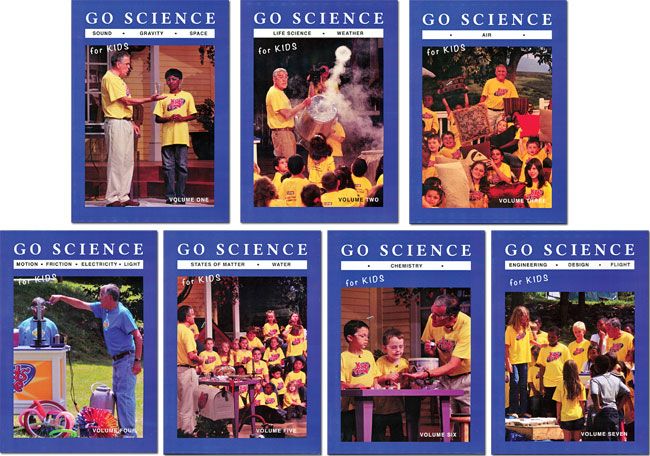 Hey now, you know the saying, "Never judge a book by it's cover"?
This is one of those things. These were obviously filmed in the 80's, but that doesn't mean the material isn't totally legit and entertaining. In fact, most of my favorite kid products are from the 80's (they can keep their fashion though).
For this review, we were able to choose two DVDs. I went with Life Science - Weather and States of Matter - Water. Both are topics we are planning to dive into this upcoming school year and I felt these would be a fun addition to our units.
How We Used It:
To start out with, we had to create an account on the Library and Educational Services site. This company sells at wholesale prices which allows everyone to get killer deals on books, DVDs, audio tapes, and other materials. Creating an account was extremely fast and simple. Well worth the savings it allows us.
I picked our DVDs after watching a couple of samples, then waited for them to be delivered. Delivery was faster than I expected, which was a pleasant surprise. Long shipping times make me sad.
In honor of being totally honest, the covers on the DVDs didn't spark any of our interest. I had good intentions of watching them every afternoon, but days slipped by and I hadn't done it. Part of that may be that Andrew took our DVD player to Arizona already so that means the three of us have to huddle around my laptop to watch them.
But a couple of weeks ago I did finally pop them in and we loved them!
The picture above is the scene for the experiments.
The group of kids are very involved in the show, which my kids liked. Ben asks them questions and gets it started by talking about things that bring him to the topic of the experiment. Each segment is pretty short and ends with talking about how science points us back to the Creator.
We started with the States of Matter - Water DVD. The very first clip was making baggie ice cream, a long standing favorite summer activity around here. Of course we ended up only watching that one clip so they could make their own baggie ice cream. I loved that the science behind it was explained a bit.
The rest of the segments were good too. They did some sink float, explained why ice floats, and made butter.
I thought that there would help us see some experiments without having the mess of doing them. But almost every segment sparked Josie into action! We ended up replicating most all of the experiments. This made for some good Summer fun! After a couple segments, I started having them watch them after rest time in the afternoon to break up our time before dinner.
The weather and life science DVD was more what I had expected. These experiments would not be easy to do at home and showed us some things that I wouldn't be able to explain myself. There were a couple (like the Naked Egg) that we did, but for the most part, this DVD was one that we watched and discussed. Josie's favorite was Nails For Breakfast. I won't ruin it, but it was interesting!
My Opinion:
While watching the DVDs, I kept thinking that so many of these would make awesome science fair experiments for kids. They were easy to understand. I was under the impression that these experiments would be ones that we couldn't do at home. However, they were all pretty easy to reproduce at home. The added benefit is that he gives the direction and explanation behind it. I would suggest that you plan out when you watch the videos to be sure you have what you need to do the experiments because your kids are going to want to do them!
I wouldn't think that this series could count as a science curriculum, but that isn't what it's meant for. These videos are a great add in to a science program or as a way to spark a child's interest in a topic.
The segments are pretty short, under 5 minutes each. This was good for our family, especially my four year old. They both liked that the kids in the audience is such a big part of the show. That really helped keep their interest
(and they both asked how they could get to be on the show)
.
I didn't like that they don't allow enough time for the entire experiment. For instance, they start making butter by pouring the cream into a jar but then he puts that away right away and just takes out one that has already been shaken enough to make a butter ball. I totally understand that there isn't enough time to complete the entire experiment, but it would have been nice for them to show enough of the in between for the kids to see how the change was taking place.
I felt that these made for a great Summer activity.
Product Details:
http://www.libraryanded.com/goscience
Facebook –
http://www.facebook.com/libraryanded
Price
(per DVD)
- $8.97