What Is It?

Golden Prairie Press
is a curriculum company specializing in elementary American history. The company was started by a homeschool graduate named Amy. I love that she herself was homeschooled and that she developed a passion for history then began creating her own curriculum. Golden Prairie Press has a great list of history curriculums available. All of them use a multi sensory approach. Students get to listen to music, observe art, read great words, cook, and do art to help them really learn the material.
For this review, we were sent the digital version of
Heroes and Heroines of the Past: American History Curriculum.
This curriculum comes with a ton of resources. Along with the two part student text, we were also sent downloads for the Additional Materials, Historical Skits ebook, Sing Some History audio download, and Listen to Some U.S. History MP3 audio download.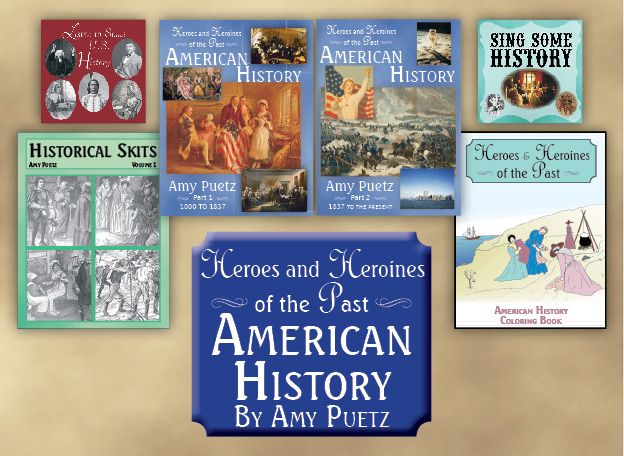 How We Used It:
All of the downloads were simple and quick to download. When you purchase the curriculum, you are given 5 downloads for each item. I saved a copy of everything to my laptop and another copy of the books to my kindle. This made it really easy to read the lessons from a smaller device, but allowed me to print the additional materials from my laptop.
I glanced ahead to see if I would need to do any special prep, but was really happy to see that it is very open and go. I did print out the maps for the geography lessons, but it was so simple with the additional materials download. There are activities that go along with each section that you can chose to do to add some fun. For the sections we did during the review period, it was all simple items that you could find around your house or at the dollar store.
canoe from section one
Each section is divided into two parts. The first part is geared towards 1st and 2nd graders. It is a more concise run down of the information. The text is a little bigger and there are bold words to show when they are changing topics. I felt that this section didn't give enough information for where Josie is, so for the chapters we worked through, I read the second section. This is geared towards 3rd to 6th graders. I have a feeling that as we get farther into history and start topics we haven't already touched on, I will do a mix of the first and second sections.
There is so much great information in each section. We spent time looking at maps, examining art from the time period, modeling ships out of clay, making teepees, and doing writing assignments. All these activities are laid out in a super simple to understand format. We would read the section and then pick an activity or two to do so solidify the information. While we did the activity, I would ask Josie some questions about what we had read. The questions in the book were a little difficult for her, so I just made some up.
Since the lessons are so quick and easy, there is plenty of time to do the activities or to add in some extras on your own. We happened to be visiting Arizona when we were studying Indians, so when I heard there was an authentic indian dance performance at a local park, we headed over to see it. Josie loved it and it really did help nail the info down for her.
Josie's Vikings were into pink and purple
My Opinion:
We are very hands on learners around here, so I loved this curriculum. We had so many options for each section. The lessons were quick, but had all the information that Josie would need to know on the subject. Even Gabe was able to sit and listen and do the activities with us. If you have kids spread out over 1st to 6th grade, it would be awesome to be able to do this one American History program with them at the same time!
I loved the option of doing the quick, simple text or the more in depth text.
The activities were all easy to do and needed materials that most households would have access to. I loved that all I had to do was glance ahead to see what we would need to be ready. In the past, I have tried to piece history lessons together using different online resources. This was so nice!
It's an added bonus that I'm learning along with the kids.
I loved this so much, it's already on the planner for next year. We are going to finish section one and then pick this back up in the Fall when we start second grade. That will have us studying colonies and the first settlements right before Thanksgiving. Love when things work out that way!
I highly recommend this history program and can't wait to continue using it with my kids!
Product Details:
Website - http://www.AmyPuetz.com
Heroes and Heroines of the Past: American History Curriculum - $98.99
(available in both digital and hard copy)