What Is It?

God's World News
is a magazine company that brings current events to children in an age appropriate way. The company is a Christian company and writes with the idea that God is in control. The goal of the magazine is to teach critical thinking skills about current events. The articles touch on economics, science, religion, history, and media.
There are six different levels ranging from Pre-K to high school. This ensures that your student will get the information in an age appropriate way. For this review, we were sent a one year subscription to the Early Edition of God's World News, which also came with a world map. This edition is written for children at a first to second grade level.
How We Used It:
Getting mail with her name on it is pretty much the best thing ever to Josie. So she was pumped about these magazines from the first envelope we got. I let her page through the magazine and ask questions about the pictures for a few days before we started to really dig into them.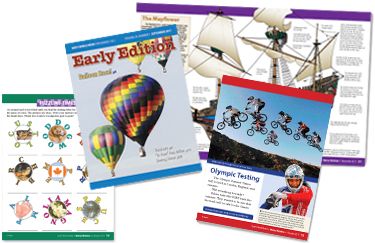 I decided to pick a few articles and spend a little time over the month reading them. They are written in a very age appropriate way and held Josie's interest. The photos are excellent too. Josie really loved using the coordinate on the pages to locate where the events took place on the map.
My Opinion:
We really enjoyed these magazines. Pretty much anytime something comes in the mail for Josie, she is going to be interested in it. Beyond the initial excitement, she liked listening to the stories and finding the locations on the map. We both enjoyed the little puzzles and games that were scattered throughout the magazine. I felt like there wasn't a lot of "current events" but that is most likely due to the level we picked. Most real news stories aren't appropriate for this age. The articles that were in the magazines were real things going on all over the world. It was fun to discuss fact vs. fiction with her while reading the stories.
The text was large and the articles are written in a way that is easy for new readers to read.
A major selling point for me is the map that coordinates with the articles. This was great for teaching map skills. Josie really understood how to do it by the end of the first issue.
The paper quality isn't the greatest. It is more like a regular paper then magazine paper, but it held up very well to both my kids reading them several times.
There are also quite a few extras on the website that go with the articles. This would be super helpful if a particular article sparked something in your student.
Overall, if my kids were a little older and were ready for the level that has the actual news stories in them, I would get this product.
Product Details:
www.GWNews.com
One Year Subscription - $28.00