This week, Little School was all about gardens, flowers, seeds, and veggies!
I have wanted to start a garden for years so this was a really great week for me and Josie loved all the hands on activites we did too.
We started off the week going over the parts of a flower and what a flower needs to grow. We went over this everyday.
Josie and I headed to buy our seeds on Wednesday. I let her pick a vegetable and a flower and I picked the rest.
After a couple delays, we were finally able to get out to plant on Thursday. We read The Tiny Seed before we started.
Mr. Terry had already planted some tomatoes and flowers on one end of our bed and we filled in the other side.
This was a big learning experience for me. Next year I will do a lot more prep work and planning out the space to make the planting go smoother.
I found this book at the library and knew Josie would love it. I used it for a stART project.

I gave her a bowl of red water, blue water, and yellow water and just let her go to town mixing them and putting them on coffee filters.
The little squeezers were great for her fine motor skills.
Then we turned our coffee filters into flowers! (If you're a Grandma or Great Grandma to Miss Josie close your eyes!)
We painted flower pots and planted daisys too. This was her favorite activity this week!
Josie worked on her fine motor skills with a transfer activity. This is her favorite Quiet Work right now.
I put a bunch of pom pom balls in a bowl and give her a tweezers to use to move them from the bowl into fun ice cube trays.
And lastly, we worked on the letters of her name by planting grass seed in the shape of her name. I'm really hoping this works!

That was it for our week!
Next week we are carrying on with plants but focusing on fruits! I have a few fun things planned to teach her The Fruits Of The Spirt so I hope you come back to check those out!
I'm linking up with: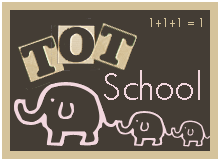 Josie is 3 (38 months)