What Is It: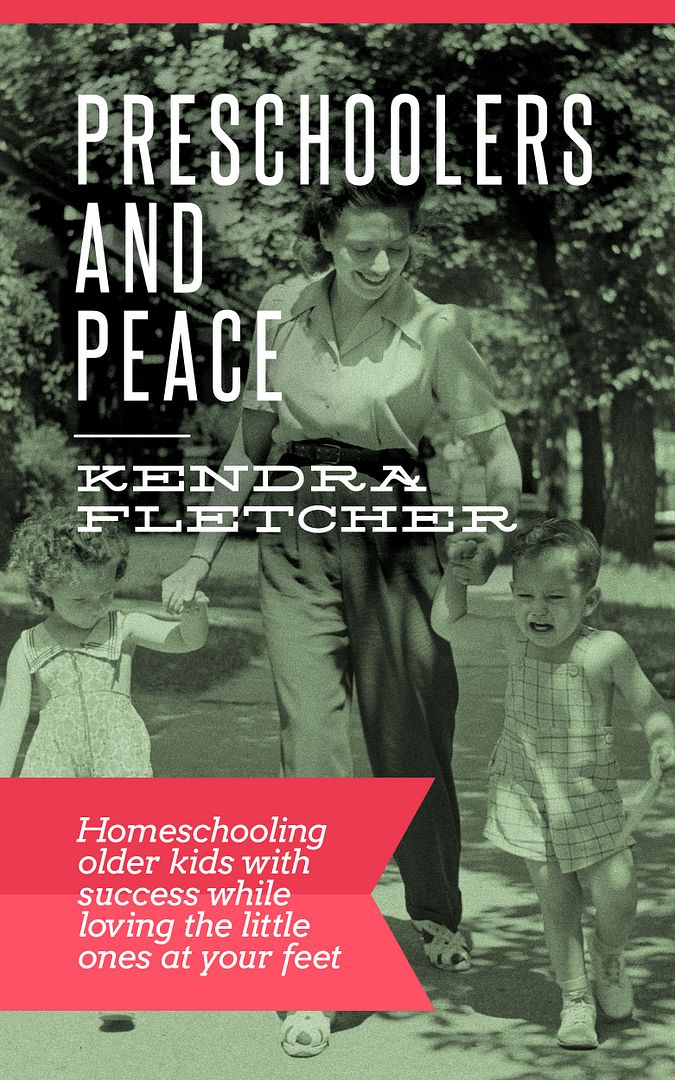 Preschoolers and Peace: Homeschooling Older Kids With Success While Loving the Little Ones at Your Feet
, is a book written by blogger Kendra Fletcher
(author of the blog Preschoolers and Peace)
to help answer that ever present question,
"What do I do with my younger kids while doing school with my older kids?"
Kendra wrote this book after continuous requests from readers for her best tips. The book is now available on Amazon and is full of tips and tricks. Kendra has kids from age 20 to 5, making her advice one that comes with experience.
For this review, I was sent an ebook copy of Preschoolers and Peace: Homeschooling older kids with success while loving the little ones at your feet.
My Opinion:
When I read the tagline,
"Homeschooling older kids with success while loving the little ones at your feet,"
I instantly wanted to read this. I've had it easy for the most part. The past couple of years, Gabe was able to entertain himself or would nap during school, which allowed us to squeeze lessons in without too much interference. But now Gabe is a preschooler and I just don't feel good about constantly telling him to go play.
Kendra's book is fairly short, only 59 pages, making it extremely manageable to read. I finished it in just a couple of sittings. The chapters include
What a Homeschooling Mom Needs, Preparing Yourself to Homeschool Older Kids With Little Ones Underfoot, Planning Around Preschoolers, How Do I Keep Them Busy?, What Does a 2-Year-Old's Day Look Like?, How Do I Get Any Preschooling Done?, How Not to Just Kill Time, Circle Time: Or How We Pull the Little Ones In, Preschool Boys, When All of Your Kiddos Are Preschoolers, Preschool Chores, Planning for Preschool, When Mama is Worn Out (or Pregnant), and Meal Planning 101
. The list includes topics for everyone.
There are lists of activities that were super simple, but would go beyond just entertaining your child. I personally loved how Kendra put readers at ease about how simple preschool can be. With just a tad bit of extra preparation, I was able to put some of Kendra's ideas into practice. Honestly, most of the topics and ideas in the book you would be able to find online, but having them all listed out was a good resource.
What I found more valuable then the actual activities was the warm way Kendra writes. She helped to make me feel like what I'm doing with Gabe is enough and that all the little things add up to a great preschool experience.
You can find more information about Kendra and homeschooling multiple ages at any of the following links:
Facebook:
https://www.facebook.com/PreschoolersandPeace
Twitter:
https://twitter.com/KendraEFletcher
Pinterest:
http://www.pinterest.com/kenj/
Google+:
https://plus.google.com/+KendraFletcher/posts
You Tube:
https://www.youtube.com/user/preschoolersandpeace
Product Details:
Website:
Preschoolers and Peace
eBook:
Preschoolers and Peace: Homeschooling Older Kids With Success While Loving the Little Ones at Your Feet
- $2.99