What Is It:
The 7 Minute Life
is a company started by Allyson Lewis in an effort to help women prioritize, organize, and simplify in order to get things done. Allyson's goal in this is to help people find joy in their work instead of always feeling behind. Allyson is an awesome motivational speaker that does training seminars through webinars, in person, and radio and TV. She believes that in taking small steps everyday, you can make big changes. This is what lead her to The 7 Minute Life philosophy.
For this review, we were sent a copy of The
7 Minute Life Planner
. This planner It measures 7.3" by 8.5", which is a really great size for a planner. It won't fit in most purses, but it isn't too big to carry. It is pretty thick. The cover is a sturdy, plastic material that will protect the paper pages underneath. This is for sure a durable planner.
The goal of this planner is to help you prioritize, organize, and simplify in order to help you accomplish the tasks that you really want to.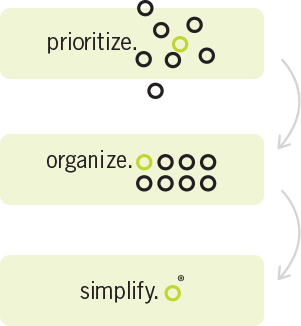 How I Used It:
I'm a bit of a planner addict. While I have one that I adore, I just couldn't help myself from wanting to try out this totally different kind of planner. While it does have calendar pages, the main focus of this planner is to help you prioritize your tasks in order to help you get things done that matter. This appealed to me because there are a lot of days that I feel like I was moving all day, but didn't finish any of the things I really wanted to.
Like most of us, I have a lot of plates spinning all of the time. I like to be busy and to have my hands in a lot of different projects. Trouble is, I'm also easily side tracked. I may have a great plan in my head of what we will accomplish in a day but then the phone will ring or a new idea will pop in my head and our whole schedule will be gone.
The 7 Minute Day Planner helped me to sit down every night and think of 5 things I wanted to get done before 11 the next morning. Sometimes these were chore like things, sometimes it was just reading to the kids. I put things here that are very high on my "Want To Do" list but also very easy to say I'll do later and never get to. Doing this exercise at the end of each day worked really well for me. I took that
"man, I wish I would've..."
moment and decided to do it the next day.
I love checking off boxes and, most days, that was enough of a motivator to get me to actually do those things!
I don't contact as many people in a day as the planner gave me space for. So I used some wasabi tape and turned that into another To Do list. This is where I put random things that I thought of throughout the day that I wanted or needed to do.
I loved the Life Connections space. Again, I didn't use this exactly as it is intended. There are many times in a week that someone will come to mind that I know I need to pray for or send a letter to or reach out to in some way. Usually, it's not at a convineint time. So I used this section to jot down who came to mind and any specifics I felt like as far as how to reach out to them. Loved this!
I used the unfinished tasks section as more To Dos if I needed it. Anything not checked off either got tossed or I just moved it to the next day's list.
I didn't track my spending. That's just not fun!
The bottom section was my favorite part. I like the water tracker and the boxes for recording sleep, reading, and other personal things. I do wish the meal section was bigger. Our meals never fit in those boxes.
My Opinion:
Overall, I think this is a really neat way to track things and get some of your priorities in line.
When I think of a planner, I think of days listed and appointments. This isn't that kind of planner. This is great for tracking the things you really want to get done!
I would think this layout and format would work fabulously for someone that has a job outside of the home. Although, as I did, you can for sure customize it to make it work for you if you don't.
This isn't a planner that I would carry with me everyday, but it will be something I turn to when my mind is working faster than I can keep up with and I need to get my priorities in line.
Product Details:
The 7 Minute Life Planner
- $24.95