Normally, I wouldn't condone running away.
But sometimes the days get too long and sometimes you need sand in your toes. And if those times just happen to line up with an invitation to head to the beach, well, you'd be a fool to say no.
I almost did say no.
This year's been busy. We've been on the go way more than normal. I felt like we had just settled back in from our Arizona trip and knew we were headed to Florida in a few weeks for my sister's graduation. We had a wedding on Friday night and Josie was really looking forward to the luau at AWANAS.
But after staring at the calendar for an embarrassingly long time, I decided,
"Oh, what the heck."
I threw some clothes in a bag and we went.
And, y'all, I'm so glad that we did.
Motherhood At The Beach. A lot like Motherhood At Home.
We got home Sunday night and my heart is all full of happy thoughts.
It's a good life we are getting to live and I'm feeling all sorts of thankful. The older I get, the more I'm seeing how a strict schedule is just begging to be broken. It's fun to go just because you want to and it's good to focus on people instead of things that need to get done. I want my kids learning to be flexible and their memories to be full of times with grandparents and people that love them.
It was a good weekend.
One more thing: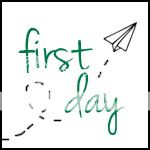 Tomorrow's First Day.
Check it out, participate, join us on the 2nd for the link up.
First Day Details Here