Today is First Day!
It's not too late to grab your camera and get to snapping.
Load up those awesome shots and come link up tomorrow.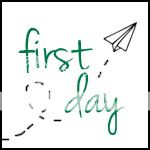 Life This Week
We had a great week! Sunday was gorgeous and we spent the day soaking up the 65 degree sunshine. Later that night, Andrew and I went on an awesome date to a fancy resturaunt. I woke up Monday morning feeling refreshed and ready for a fun week!
We finally had a few low key days in a row which was a nice change to the non-stop action we've been having around here. Then Josie and I woke up bright and early Wednesday morning for our first ever Girls Only Trip! We are in Minnesota having a great time with our northern family and kissing on my new nephew, Baby Ralph!
School This Week
We only had school for 2 days this week. We covered all the basics and then spent our afternoons investigating ice and snow. We all had a ton of fun with this mini unit!
We had a few battle of the wills over math. It's frustrating because she will fly through a page of math one day and then fight me on every problem the next day. She's started guessing or saying she doesn't know how to do it when she does. I try to just put it up and try again later but sometimes I forget that plan in the moment. I'm super glad for this week off.
Going & Seeing
While Josie and I are up in Minnesota we are going and seeing nonstop! We spent the first couple of days with my brother, Nora, and the sweetest little baby ever. Last night we moved the party over to my Mom's house. We are looking forward to a big party for Baby Ralph tomorrow, lots of card games, and a special tea at the American Girl Cafe on Sunday!
Kid's Favorite
Josie's favorite is obviously our big Girls Only Trip, but other then that this fake snow rocked both the kids world this week. I expected this activity to last one day but it was a hit all week long!
Out My Window
We had one glorious, sunshiny, 65 degree day on Sunday before the rains came barreling back in. We spent the entire day outside making a fake garden, blowing bubbles, hitting stuff with sticks, and soaking up the rays.
And right now, it's looking just a little different outside my window:
We landed to a blanket of fresh snow! Pretty cold but so pretty!
Thankful For
This Mother Daughter Trip. Josie is a fun age for traveling. She doesn't need naps and can really enjoy all the people we see and things we do. It's been so, so good for my heart to get this alone time with her. Even if I am having to share her with Grandparents and Uncles and Aunts and Cousins!
I love watching Josie become a little girl. She's an amazing kid.