Before I show you pictures of my adorable babies,
covered in sand and salt water,
don't forget that tomorrow is First Day!
August was our biggest link up! Keep spreading the word!
Check out the First Day button at the top of the blog and I'll see you back here on Sunday!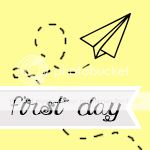 I'm getting more adventurous.
Things that used to require months of planning and notebooks full of "Don't Forget" and "Must Do" lists are now done with a bit of spontaneity.
Last weekend I agreed to traveled by car, with the kids, for 7 hours, to spend two days at the beach. Sure I had a good 9 day notice that we were going, but it wasn't a sure thing until right before we left.
I threw swimsuits, pjs, and most of our toothbrushes into a bag, packed up some travel food, and we hit the road Thursday afternoon.
Even though it was a short stay, we soaked up every minute.
That's kind of my new thing.
I'm learning to live every moment. No worrying about our plans for the next week, just attending the task at hand. I'm putting my phone away more and forcing myself to make eye contact. Big things for this socially awkward woman.
The weather was absolutely gorgeous.
Mid 80's with a light ocean breeze. The water was crystal clear and we nearly had the beach to ourselves.
It was a perfect weekend.
We beached.
We swam.
We buried Andrew in the sand.
We ate on the pier.
Josie & Gabe with Great Grandpa Carl (94!)
There was ice cream.
And I even read a book.
We ditched the kids for a totally amazing date night on the beach.
This man makes me swoon. It's silly how much I love him.
And then we loaded back up, love tanks full to the brim, and headed back home.