I'm in my second year of doing the First Day posts.
It's one of my favorite ways to look back on how my kids have grown.
I love seeing the normal old day to day life that I'm living.
And I think it's high time that you start loving it too!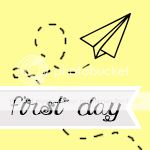 So here we go ladies, set out your camera on February 29th (Hello Leap Year!) and snap a few shots throughout your day on the 1st.
I'll post mine on the 2nd along with a little Linky Party so that you can link up.
With all the Instagramers out there, there's no reason not to!
And if it's a total flop and nobody participates, I'll hang my head and drop it.
Although, I've suckered
Amber
into joining me so I think I'm good.
So have fun capturing a day in your life and I'll see you back here on the 2nd!