What Is It:
Fundanoodle
is a company is an education readiness program. They specialize in products that will enhance handwriting, fine motor skills, hand eye coordination, and problem solving. They carry a lot of really great products for very reasonable prices. I was impressed with each of the products I saw.
We were sent 2 books to review. One was "
I Can Write Lower Case!
" and the other was "
I Can Write My Own Stories!
". Both books are recommended for ages 5-6. The "I Can Write My Own Stories" has a lot of writing assignments in it so you'd want to have your child comfortable with writing for that one.
I Can Write Lower Case! has 52 pages that give simple instructions for writing each lower case letter along with a lot of practice pages. There are also sticker pages in the back to use as rewards for finishing the pages.
I Can Write My Own Stories! has 50 pages of activities as well as stickers in the back for rewards. This book has 50 different writing assignments that range from making lists, creative writing, and filling in story webs.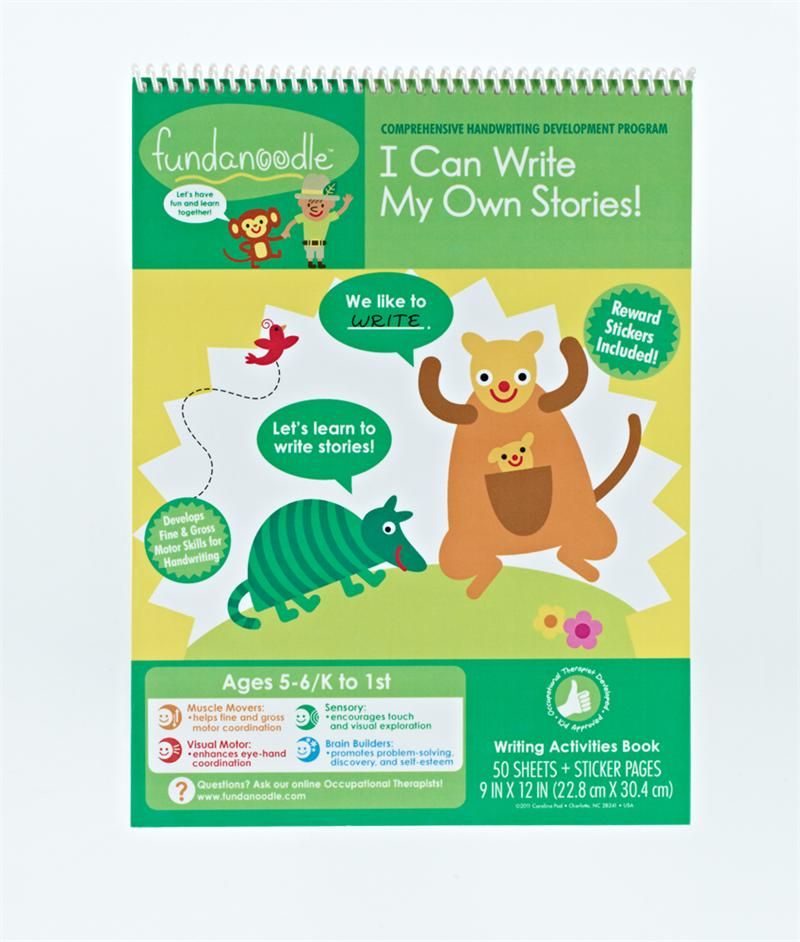 How We Used It:
Writing has been the only subject that has given Josie a hard time. In the past 2 months, she has made some vast improvements though and is on the way to very nice handwriting. The trouble is, I taught her how to write upper case letters and left her to her own devices to learn lower case. She can write them all, but doesn't use correct formation which makes handwriting an issue. There are lots of floating letters going on over here.
I had a feeling that a simple, but well explained, program would really help her and I was right. We used this daily for the past month to practice. She did really well and caught herself making mistakes in her other writing and quickly corrected herself. She didn't complain about using this product which speaks volumes to me.
The other book, I Can Write My Own Stories!, was super fun. A couple days a week I put a sheet from the book in her workboxes. There is such a variety of topics and tasks that she really liked this. It showed her that writing can be really fun!
My Opinion:
I love, love, loved this product!
The I Can Write Lower Case! book was great for getting in a lot of practice with something that Josie had struggled with. The pages were short, so it didn't take her a ton of time, but due to all the repetition, it really made a big difference. The simple directions for where to start and stop each letter was a big help. I also appreciated that they gave her a relatively small space to write the letters. Most practice books we've tried out gave big spaces that didn't translate well to regular paper. After practicing with this book all month, Josie is writing correct lower case letters in the right size on a regular basis.
I'm planning to buy this book for Gabe next year and hopefully head off the errors Josie picked up when she first started writing.
As much as I liked I Can Write Lower Case!, I liked I Can Write My Own Stories! even more. Each page of this book had a different task for her. Sometimes she made lists, sometimes she did a story web, and sometimes it was writing a whole story about a picture. These were easy to complete and really fun for Josie. She got to be creative while learning how awesome writing can be. I think in the past, she associated writing with handwriting work. This book really showed her how many different things you can write about.
Both books were great quality. The covers are hard, thick cardboard and spiral bound. The pages are perforated, which made it easy to tear out whatever page I wanted her to work on and put it in her workbox. The pages are nice and Josie hung them proudly.
The price of these books is excellent. Under $10 is pretty awesome for a product that is this well made!
Product Details:
www.Fundanoodle.com
I Can Write My Own Stories!
- $5.99
I Can Write Lower Case Letters!
- $5.99