We love using apps for learning.
The iPhone and iPad are seriously awesome tools for all students and especially homeschoolers. Josie loves playing on ours and, while Angry Birds is great for getting through a long dinner out, I really love the educational apps available.
This app was a bit beyond where Josie is with reading and grammar so I did most of the playing with this one. Rainbow Sentences
is designed to help students improve their ability to construct grammatically correct sentences by using color coded visual cues. The who, what, where, and why parts of sentences are color coded to help kids recognize and understand how combinations of these parts create basic sentence structure.
The colors are bright and the pictures are really fun. Josie ended up playing with it with me and really enjoyed it. She loved getting the puzzle pieces as a reward for getting an answer correct. I'm really excited for her to be able to use this over the next year or two to learn more about grammar.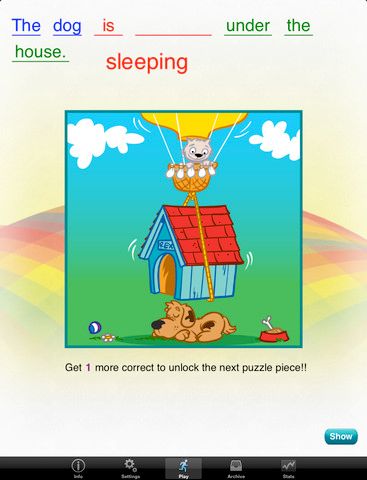 From my past searches, it seems like there are a ton of early learning apps, but not much for the older kids. I think this is a great app for those of you with kids in elementary classes or needing a little help with sentence structure. It's defiantly fun enough for them to think they are just playing a game instead of getting a grammar lesson.
FEATURES
165 images to create sentence from
Intuitive drag and drop to create sentences
Words are spoken as they are being dragged for non readers
Words can be color coded for added visual support
Word groups can be selected to simplify sentence construction
6 levels of sentence complexity
Pictograph lessons to help students learn proper sentence construction
Record feature allows students to record sentences in their own voice
Save and email recorded sentences
Students earn puzzle pieces during play to encourage continued play
Puzzles come to life once level is complete
This app is available from Mobile Educational Store through iTunes for $7.99. You can purchase it by clicking
here
.
Disclaimer: As a member of the TOS Crew, I received this product, at no cost to me, in exchange for my honest review. All opinions are mine.