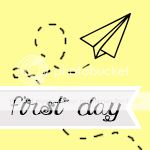 Set out your camera and snap away tomorrow.
Come back here on Saturday to show off a day in your fabulous life!
We just wrapped up our unit on plants. It was a great month.
Here's our last experiment. We sprouted an avocado.
It's been a couple weeks since we did this one.
It cracked and we can see something growing inside, but it hasn't turned into anything yet. We will keep watering it and see if anything happens.
FYI, avacado goo makes an excellent Quiet Time game. Girlfriend was in Heaven.