I'm trying a new system for doing school with Josie. As much as I want to wait until she's older to introduce structure to our learning, my Type A personality needed a bit more planning.
We aren't doing curriculum but I am giving each week a theme and then planning one or two activities each day that go with that theme.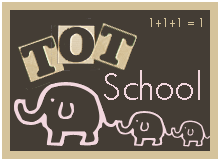 Josie turned 3 in February (37 Months)

This week we focused on Easter and it went really well!
We started by doing our Holy Week Calendar each day. I was very suprised at how well Josie listened to the reading even out of my adult Bible. She listened, asked questions, and then we did the activity that went with that day. She loved showing Andrew what she had done when he got home!
We did some glueing with this project:
We worked on counting by using Jelly Beans. This one was one of her favorites!
We turned our trusty TP rolls into bunnies:

Due to a serious traffic jam, Tiff couldn't make it home in time to do Little School so we skipped this week.